All Marvelo bikes were bought by Kaffe at Brick Lane market London E1 on Sunday mornings between March and May 2008 before 10am. This exercise also became an interesting study in current London bicycle fashion, ie. the 80's racer is making a fine comeback, the young and fashionable will pay whatever is asked for a heavy 3 speed sit up and beg type, and prices shoot up as the summer comes.
All Marvelo bikes were bought from the two long standing stall holders, not the dodgy guys standing on the corners with several stolen ones whose pockets the ever so clean people happily and continuosly fill with notes.
All Marvelo Bikes need to be safe, comfortable to ride, lightweight, good brakes, tyres, many efficient gears (Folkestone many steep hills), have mudguards and a pannier rack.
Pea Bike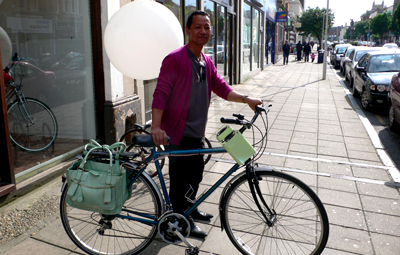 The second bike in the team, Pea Bike is a British made man's Claude Butler, £70. Had all the requirements so a bargain for such a classic. A pair of plastic pea green tote bags for gear.
Pinky Dinky Do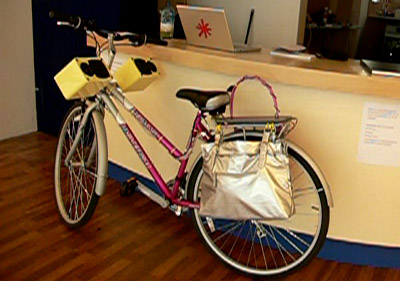 A struggle to buy this one as it was brand new but it was pink, called Mermaid and had all the requirements in an out of the box Chinese made condition. A pair of silver tote bags completed the look for the showgirl bike, £65. Named by Abi.
Silver Pony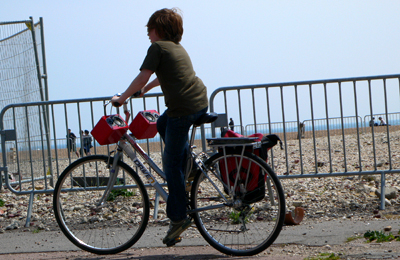 Kaffe's personal favourite, Silver Pony was the third bike in the team made from a reclaimed frame dumped on a skip and brand new shimano parts. Lightweight with upright handle bars and a relatively low slung seat makes it rideable for the long and the the short. One red 100% Ortlieb pannier acquired as an extravagant test with random stickers on the frame gave the funky boy racer touch.£30.
Queenie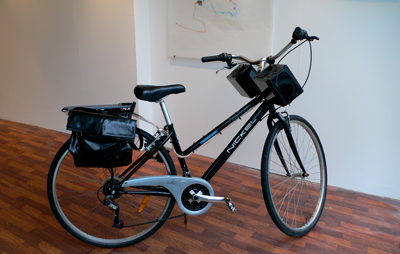 The first bike on the team and a Lady's gem of a classic with chain guard. Fake patent snake skin gear bags provided the essential touch of elegance. Thanks to Lola for hanging bag advice. £60.
Smart bike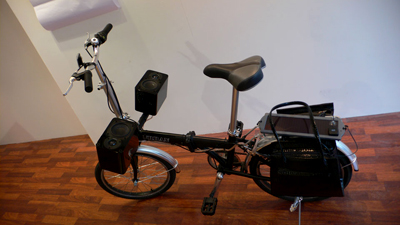 A few sleepless nights over the purchase of this the sixth and final team member. The perfect Marvelo Bike as so light, and fast adjustable with seat and handlebars but did it destroy our team aesthetic or merely reflect the variety of London bike on the street in the 21st century ? £70. ( Smart bike has of course become the most popular with visitors)
Trinny-Trike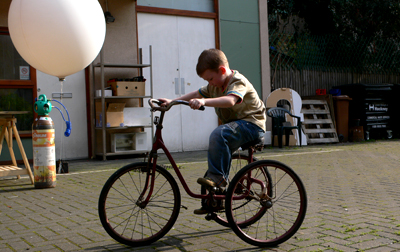 Granny M bought this second hand for Buster in 1962. It sits as our mascot and essential lure on the pavement in Folkestone.