from email sent 14th May 2008……" i've made another piece for the Bikes based around the rollercoaster ideas i mentioned. I was set to go to the wooden rollercoaster in margate to get the sounds, and awfully it was burnt down the night before i went ! So the sounds I got ended up coming from a slightly less historical background! Anyway.. it was made in mind for the large tarmac wasteland down on the sea front where the old fairground used to be (complete with wooden rollercoaster a few years ago) as i find that place really unusual, being a patchwork tarmac remains..without a trace of what was there. "
Lisa also has another piece stretched out along the Lower Sandgate road for those calm beach side cycling moments..[km]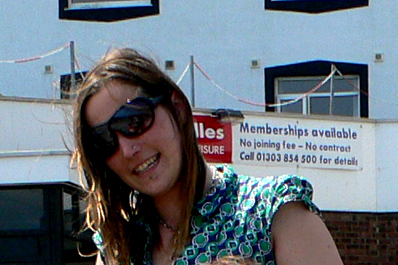 Lisa Hall recently completed a Fine Art degree graduating with First class Honours in 2006.
Final works resulted in displays using light projections and audio images and whilst studying she was short listed for the Nationwide Mercury Music Art prize exhibiting in London. Throughout 2006-7 she worked on a variety of arts events, including the Margate Exodus feature film – working alongside Antony Gormley's construction of the 'Waste Man'; with Gary Stevens as a performer in 'Flock' a part of the Lost-O events, and currently as a Studio Technician for Nigel Cooke.
Alongside these positions I have developed and assisted different projects with various youth groups across Kent, ranging from sound recording art classes with seven year students at difficult schools, to teenagers hoping to pursue an education within the arts sector.
To further develop my technical skills for personal and employable progression I have attended courses in the adobe programs and location sound recording during 2007.
I continue to develop my own practice using sound as the principle medium and am working towards collaborative events in the future.