Vitula physicata (2012)
" But why pray should I just stay slave to all those notes? That role cast some five hundred years ago? "    Romeo Antoniazi 1919.

Audio clip: Adobe Flash Player (version 9 or above) is required to play this audio clip. Download the latest version here. You also need to have JavaScript enabled in your browser.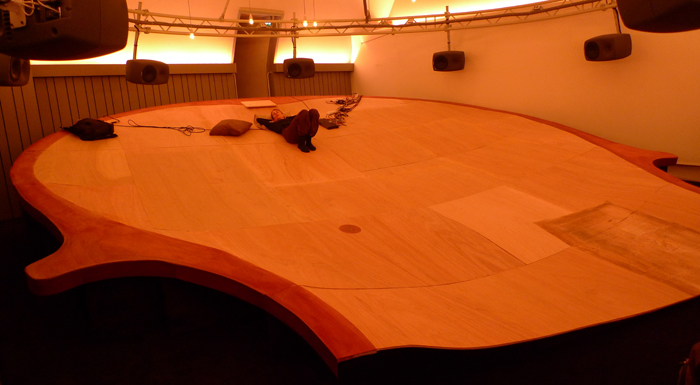 Vitula physicata is a giant violin as sound heard and felt through the body of the violinist. Presented as an immersive sculptural work whose strings and hairs play through 23 speakers and vibrating floor-violinique, it is a collaboration between Kaffe Matthews and violinist George Kentros.
The composition was made by Matthews recording Kentros playing the six frequencies a violin maker uses to tune a violin body, then open strings and harmonics. Using 5 microphones closely positioned, she then layered these sounds over 45 minutes, creating a shifting landscape of harmonies and textures whose combinations reveal new motions and other harmonics on every listening. There is no electronic manipulation of the sound. The rich variety of sonics produced by hair on bow skilfully pulled creates an endless vocabulary. (an extract now playing)
Matthews and Kentros met at Fylkingen's 75th anniversary 2008. Discovering a mutual passion for the violin, Matthews proposed to build an oversized one with the intention of giving audience the physical experience of what it's like to play one.
Vitula physicata  is the outcome. Built to the exact dimensions of an old violin of Kentros but 35 times its size, the inside of its curving back is presented as a huge vibrating floor for audience to sit upon as its music comes alive all around them.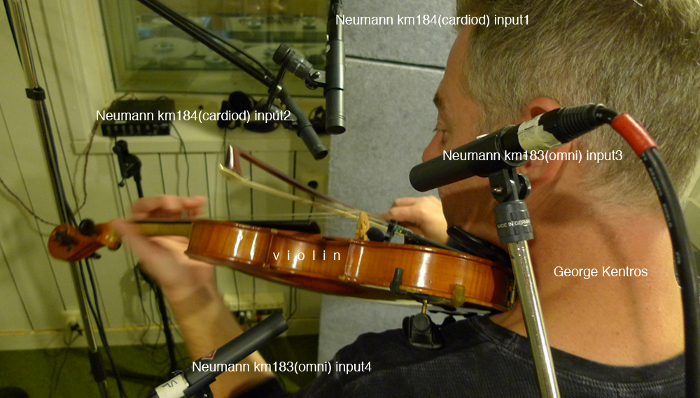 The first seventeen and a half minutes uses the violin maker's frequencies, Kentros then animating the work through playing the score live whilst Matthews moves his part through her bespoke diffusion system. Vitula physicata works as installation or performance, audience invited to come sit/lie on its transducer driven vibrating floor.
This is Matthews Kentros first collaboration. The violin body was made by Caroline Romare and was a commission from  audiorama,  where it premiered on  21.11.12 at Sound of Stockholm festival. DETAILS.
The violin recordings were made at EMS, Octopber 2012.
Only half the violin was made  due to the small size of audiorama. The artists intend to make the entire body at its next installation. With special thanks for support.