Sleeping Beauty and Friends (2007)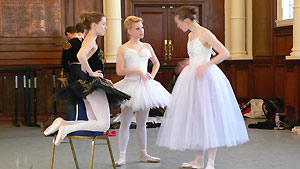 Music for one-off performance of  the ballet, "Sleeping beauty and friends",
conceived by American painter Karen Kilimnik, presented on April 4th 2007
at The New Players Theatre, Villiers St, London, WC2. 
Produced  by the Serpentine Gallery through the unceasing labours of Sally Tallant and Eva McGovern.
Made from the crafting of exact and ordered extracts of Tchaikovsky, Jean-Madeléine Schneitzhoeffer, Baryshnikov, Pugni and a layer of sparkle, mixed into a thrilling and glistening one hour. Enabled through collaboration with choreographer Tom Sapsford , costumes by Stevie, [note Gladiator outfits in the Pharoah's Daughter extract -borrowed from Kylie's last tour] and sponsored by Swarovsky.
A revealing experience to work with real ballet dancers and fiddle for hours in the depths of Tchaikovsky.