RADIO CYCLE 101.4FM (2003)
Imagine a bird's eye view of Bow, East London. Imagine the shifting sound map that ebbs and flows with the passage of the day. Imagine a music  that infiltrates that. Not just through several homes tuning into the same radio station at the same time, or a host of folk all being into the same cd at the same time. No. Imagine that piece playing from 50 small speakers, all moving through the streets in choreographed routes, individually, in small groups or together. Quietly infiltrating the everyday noise of the city, like spiders, all in unison, maybe unnoticed, maybe coming together at some street corner to play some weird music or hear a story. Imagine that those sound pieces are made by you.
Audio clip: Adobe Flash Player (version 9 or above) is required to play this audio clip. Download the latest version here. You also need to have JavaScript enabled in your browser.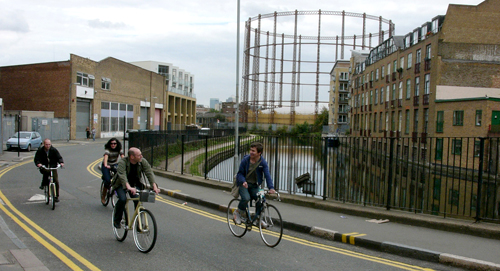 RADIO CYCLE  was set up to do just that.  A mobile stage and live radio station it broadcast music, stories, and favourite sounds chosen and made by visitors, as its teams of radio carrying cyclists performed scores mapping out London's East end.  Drawing parallels between Marconi's early wireless experiments and today's advanced communication technologies, RADIO CYCLE also ran interactive broadcasts and free guided workshops for participants to come make music and choreograph sonic cycling maps for airwave transmission.
Providing guidance with recording and editing equipment, the workshops ran for a week from the Ideas Store, Bow where people also worked with maps to draw up the scores and routes along which their piece should be cycled. Sonic cycling events were then scheduled and cyclists came and attaching radios carried the pieces along these routes, unwittingly becoming performers and passers-by the accidental audience members.
RADIO CYCLE- the essence- by Ilze Black
RADIO CYCLE was conceived and directed by Kaffe Matthews, produced by Ilze Black and commissioned by INTERFERENCE:PUBLIC SOUND, curated by Ilze Black and Anna Harding.
It broadcast continuously from Annette Works Studio, unit 61, Regents Studio, London E8 4Q from 13th-20th July 2003.  Radio Cycle was the starting point for  The Marvelo Project.
TIMETABLE.
Sunday 13th. 8am. RADIO CYCLE 101.4FM goes on air, broadcasting 24hourly to midnight 20th July.
3pm Kaffe, Ilze Strazdina(curator), and Adam Hyde(wireless artist) present ideas around the mapping of sonic cycling maps. (@ Learning Lab 1, the Idea store).
Monday 14th to Thursday 17th. 10am-noon and 6pm-8pm. free and fully equipped workshops for you to make your own radio programme. Just bring ideas and material to record. (to the  Idea store, 1, Gladstone Place, Roman Rd, London E3 5ES. 020 7364 4332 .)
Friday 18th to Sunday 20th July 2 – 5pm. SONIC CYCLING via routes mapped out by the makers of the pieces being broadcast. Just bring your bike and a radio to Pub in the Park, London Fields, (west o' Mare St, Hackney) and the beautiful woman in red will instruct you. Routes not demanding.
ALL WELCOME TO ALL, if in doubt, call us…