Incredible Adventures of Border Crossers (2015)
is a vast and six hour continuous performance directed by Ong Keng Sen and forged in collaboration with artists specialising in sound, video, design and photography, namely Kaffe Matthews, Brian Gothong Tan, Chris Lee of Asylum, Reckless Ericka and Francis Ng.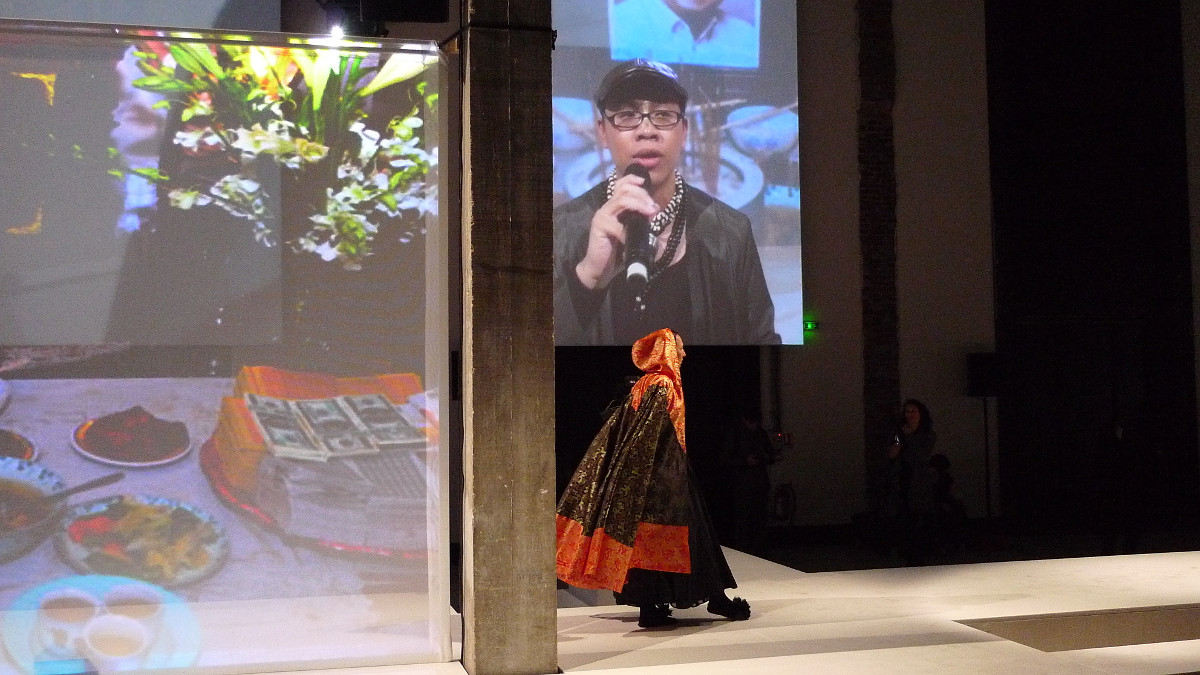 Commissioned for the opening of Singapour en France – le festival at Palais de Tokyo, Paris opening 24.3.15, The Incredible Adventures of Border Crossers tells a story of past-present-future through the voices of border crossers. Immigrants from Europe, the Americas and Asia-Pacific who had never before acted were invited to be performers where through sharing their everyday stories as incredible adventures, they inhabited the installation – singing, dancing, being, as well as invoking pioneer travellers captured by the Lee Brothers photographic salon in 1910.
With 12 projections screens and 12 channels of music taking the audience through the 12 chaters of the show, it created a dazzing feast. At the same time it didn't swamp, revealing moments of discrete individuality, the performers also carrying tiny body mounted speakers to define their own audio trail, often vocally silent, through the space.
Chapter 1 Nature: Chapter 2 Eating:Chapter 3 Travel :Chapter 4 History/ Education:Chapter 5 Work : Chapter 6 Mundane : Chapter 7 Wedding : Chapter 8  National Anthem :Chapter 9 Mall :Chapter 10 Theatre :Chapter 11 Funeral : Chapter 12 Spirituality:
The Incredible Adventures of Border Crossers  is a performance, installation, karaoke and fashion runway. A stunning combination of music, visual culture, live video, fashion, documentary and movement that envisioned communications in a not-so-distant future megapolis, amidst a heterotopia of individuals.
It was co-commissioned by Singapour en France – le festival and Singapore International Festival of Arts. It was performed in English, Spanish, Italian, Romanian, French, German, Burmese, Lao, Cambodian, Vietnamese, Thai, Tagalog, Bahasa Indonesia, Mandarin, Korean, Japanese, Hindi and other languages of the border crossers.