In clean air we fly (2009)
In clean air we fly (2009) Kaffe Matthews.Video Ella Gibbs.
Inspired by collective consideration of local air pollution states with 40 school children,  In clean air we fly is an eight channel sound installation made by Kaffe Matthews for Gillett Square, London N16,  December 2009.  New music  that carves its way across a space in carefully drawn curves and lines,  it is made from processings of the Solfeggio series, the children's voices, tunes and locally recorded sounds, all sculpted and stuctured into three shifting layers.
Music with no beginning and no end,  In clean air we fly is only audible when the audience pedal the special bicycles provided by Magnificent Revolution, which power its eight speakers.
"In clean air we fly" was commissioned by Invisible Dust and Hackney Cooperative Developments.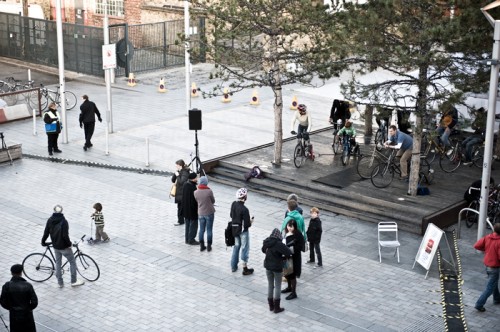 Matthews works in sound so she has always dealt with the invisible. For this work, she collaborated with  children from Shacklewell and Colvestone primary schools to explore the possibilities of city transport without pollution and its related health and environmental effects. Together they investigated the local streets, identifying the air pollution hotspots and mapping the results at both street and sky levels to build a musical score from the airspace. The children recorded street sounds, played instruments and wrote songs also exploring the tones of the ancient Solfeggio series which Matthews crafted into this shifting multilayered work.
In clean air we fly raises awareness of  UK air pollution and our dependence on cars , and was launched the weekend before COP15, the UN Climate conference in Copenhagen. It is also the inaugural event for Invisible Dust, an organisation set up by curator Alice Sharp to highlight air pollution, health and climate change. The work was also assisted by contribution from  leading atmospheric chemist Professor Peter Brimblecombe.