Monday 26th June
June 26th, 2017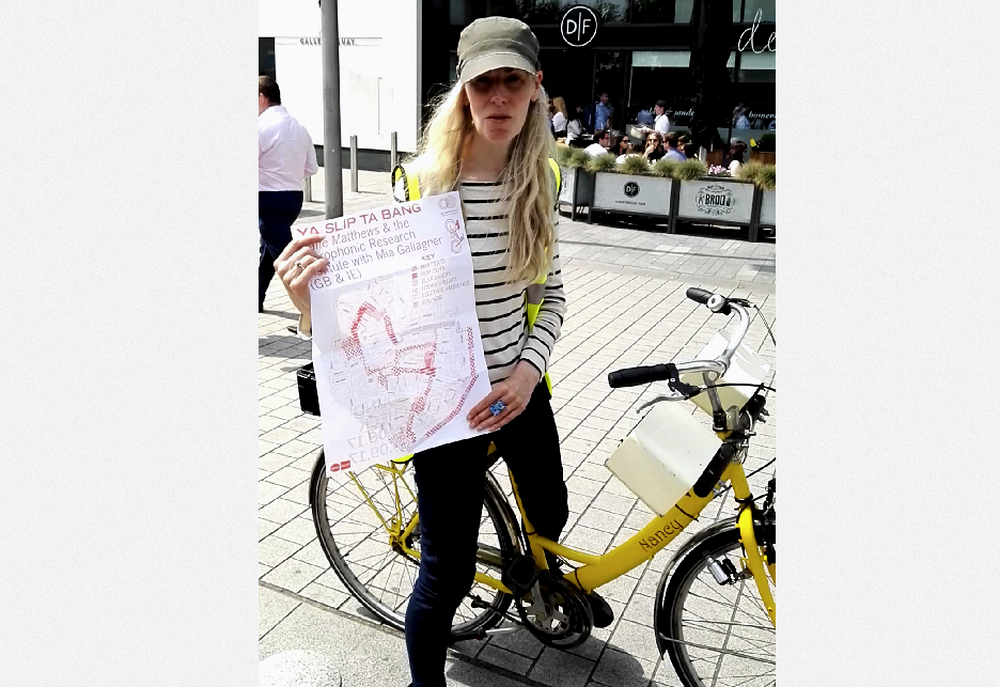 Mia rides ya slip and sends a list of her favourite moments : –
–  the Rules over the lunchtime commuters at Grand Canal Dock (sublime contrapoint of text and location)
–  that massive surge of trance music over the Sam Beckett Bridge (omg, I was flying)  (? trance music ? you mean the massive violin slab? cool! – kaffe)
–  diving/Granny's sigh has a lovely and surprising quality (up O'Connell St after the Dublin Spire)
–  'where's me stuff …,'  loved the energy in the text & music here (coming down Dorset St)
–  the last bit coming down Townsend Street (Nayler's fleet assassin) – loved the change in vocal tempo
–  also there was an incredible bit when I went under a bridge on the way to Grand Canal & the sound just boomed out, brilliant.  ( o yeah – the acoustic under that small bridge over the cobbles is awesome, try riding really slow –  kaffe)
Loved all your loops & music & sounds. With more time I imagine they could have been even more complex, but they were soothing and stimulating and gorgeously mixed – I missed them when I went back to my normal bike Winking smile..
Overall,  I think my biggest surprise was how sensual and pleasurable the whole experience was. I loved feeling the vibration of the bike through my body, and I felt bathed and surrounded by the story and the soundscape, like I was being accompanied by it. It was oddly nurturing. At one point two vocal pieces played over each other (the party and the offer) – probably because I left the route and came back to it? – but it was actually really exciting and surprising to listen to. Also the sounds didn't distract me one bit from the traffic. If anything I felt safer cycling on an SB because I felt I was carrying a much bigger energy field around with me that normal – make sense?
Also loads of people turned & looked, and one guy (not Irish) on a folder bike started chatting to me, asking about the bike and was it a guided tour. He loved it!