D i s c o g r a p h y .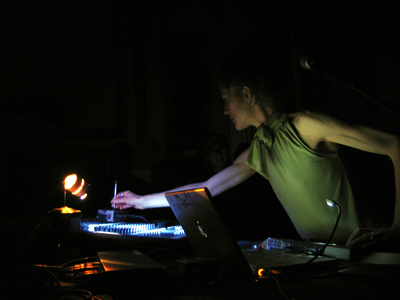 Live with theremin and 6 channels  at Radar festival, Mexico City, 2006, by Kevin Altamarino Zubin.

In 2005, Kaffe was awarded a Nesta Dreamtime fellowship which she used to set up music for bodies and develop a practice in multi-channel works and performance. This has meant that her release of stereo works paused.  Please check RELEASES for availability of Kaffe's solo back catalogue on Annette Works since 1998..
Yird Muin Starn, LP vinyl AWpd002. Cosmological songs and music with Mandy McIntosh. Part of Yird Muin Starn (2013)
sight , Cath004,www.cathnor.com. CD with Mimeo. (2007)
Before the Libretto  The Lappetites. QUECK 010CD Quecksilber. 13 Tracks. 50mins 47secs. (2005). Voted in the Wire's best top ten new releases for 2005.
INTERFERENCE  Public Sound. Radio Cycle Extracts. IPS 1512-1707-2/4. (2005)
Radio Cycle mappings". 10mp3's to download for cycling. See www.interference.org.uk
Environmental Cleaning Moments. 12" vinyl solo..www.stichtingmixer.nl catno.:M12.07/2. (2004)
Lifting Concrete Lightly, Produced+directed this triple CD with MIMEO from Serpentine Gallery Pavilion by Oscar Niemeyer performance. (2004). See serpentinegallery.org.
Vigilare,  for Broken Channel. DVD,with Riz Maslen. CocosolidC1T1. cat no.csc 009. See Kathodik. (2004)
Weightless Animals , AWpd001. 12″ vinyl picture disk with Zeena Parkins and Mandy McIntosh.  (2004)
cd eb and flo, solo. double cd. AWcd0005-6. Annette Works (2003).
in case of fire take the stairs,  CD with Sachiko M and Andrea Neumann. Live from the Pit Inn, Tokyo, Japan. www.japanimprov.com. (2002)
DROP, HOP, DRONE, SCRATCH, SLIDE AND A FOR ANYTHING,  charizma 018 (2001) performed by the sheer frost orchestra, composed by Marina Rosenfeld. recorded live at the Whitney Museum of American Art at Philip Morris, New York City, 26 April (2001)
cd dd, solo. cd. AWcd0004 Annette Works (2000).
Pointy Stunt, With Hayley Newman.  Audioview, Lowlands, Belgium.www.lowlands.nl  (2000)
ELECTRIC  by mimeo. GROB.LC10292 (1999)
cd cécile, AWcd0003: Annette Works. CD. Live compositions made in Oslo, Chicago, London.(1999) Awarded honorary mention: Prix Ars Electronica, (2000).
female of the species, compilation double CD. Law and Auder records.www.lawandauder.co.uk  (1999)
Rude Mechanic, Piano 200 , Double cd,  A collaboration Rude Mechanic and pan-sonic at Beaconsfield. (1999)
this many planes, SSS52: 7″ vinyl. an Annette Works production.
cd Bea,  AWcd0002 : Annette Works. Live compositions made in USA  (1999)
how many planes are there in the sky at any one time? Resonance. volume 6 no.2. RES 6.2 CD
cd Ann,  AWcd0001 Annette Works (1997) Voted top 50 best new releases 1997, The Wire. 
Pink Noir, with David Toop.(1996)
The Soundworks Exchange, 2 Shinkansen+Goethe Institute (1996)
a text of violin music,  Arts council of England. Video with Simon Biggs (1995)