A b o u t
"Matthews gracefully constructs aural environments of fog, suspense, fragility, turbulence, and unresolved contradictions that define a sense of beauty that is in tune with the world around her."  Anthony Huberman. BOMB Magazine

(image Francois Tousain)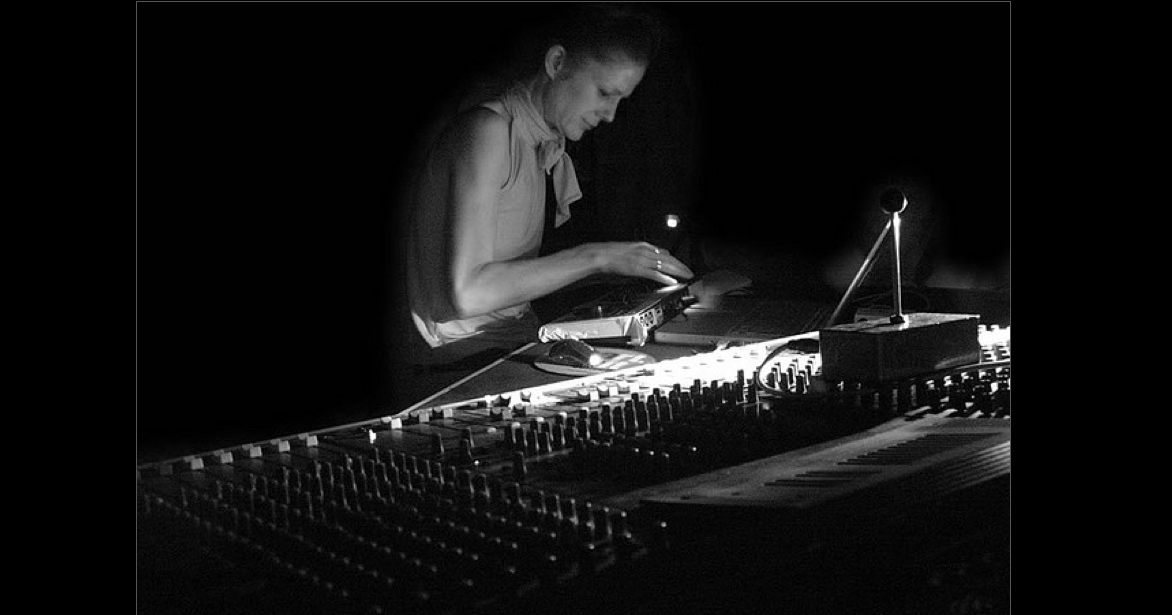 Awarded sound artist and composer Kaffe Matthews was born in Essex, England and currently lives and works in Berlin.  Since 1990 she has made and performed new electroacoustic music worldwide with a variety of things and places such as violin, theremin, wild salmon, Scottish weather, NASA scientists, bicycles, hammerhead sharks, school children, desert stretched wires and the BBC Scottish Symphony Orchestra. Currently she is introducing and internationally developing bicrophonics ~ interactive composition for outdoor enjoyment with bicycles through the Bicrophonic Research Institute(BRI).
Since 2012 Matthews has made eleven sonic bike operas for Belgium, Portugal, Germany, Texas, Finland, Berlin, Dublin and the UK. In  2014 she established the BRI to collectively develop and share bicrophonics.
Other significant compositions include 43 channel installation 'The lock shift songs' , made for a trio of sonic beds from data gathered along an 85 mile UK canal walk(2014); an LP of cosmological songs & music 'Yird Muin Starn'  and three Sky Gazer chairs  in the Galloway Forest (2013), Scotland in a Vital Spark collaboration with Mandy McIntosh.  In 2012 her Galapagos hammerhead research project completed in the 3D installation 'You might come out of the water every time singing', and wild salmon project 'Where are the wild ones II ?'  developed with Laura Harrington and local children, sold out at the Bridges festival, Newcastle. She also made 'Vitula physicata' (2012) a 16 channel violin work for vibrating giant violin, Audiorama, Stockholm with violinist George Kentros.
Acknowledged as a pioneer in the field of electronic improvisation and live composition, Kaffe has released 6 solo  CD's on the label Annette Works,and continues to direct vibratory interface design project music for bodies.
Past significant works include:   The Empty Pot Fills,(2011) – 6 channel work for the Minka House, Kew Gardens; Where are the Wild Ones?(2010), 12 channel composition, The Sage, AV Festival 10;   Fathers (2009), AV multi-channel opera with the Lappetites;   In clean air we fly(2009), bicycle powered 8 channel installation for London's Gillett Sq;  The Marvelo Project(2008), Folkestone Sculpture Triennial;  Sonic Bed_Marfa(2008), Texas; Sonic Bench_Mexico (2007), Laboratorio Arte Alameda Mexico City, 2007;  Body Abiding, BBC Scottish Symphony Orchestra, Glasgow ; Sonic Bed_Shanghai,(2006) Xuhui Art Museum, Shanghai, China, 2006;  This is for you,(2005) work for chaise longue, Arnolfini, Bristol, 2005;  Three Crosses of Queensbridge, work for bicycles + radios, Drawing Room, London, 2005;  No-one here but us chickens, 2005 The Starr auditorium, TATE Modern, London, UK, 2005.
Her 2004 collaboration Weightless Animals was awarded a BAFTA, she received a NESTA Dreamtime Fellowship  in 2005 and an Award of Distinction, Prix Ars Electronica 2006 for the work Sonic Bed_London.  In February 2006 she was made an Honorary Professor of Music, Shanghai Music Conservatory, China and in 2009, a patron of the Galapagos shark conservation society. In 2014 she was awarded the Varèse Guest professorship at TU University Berlin where she went to develop and teach bicrophonics in 2016.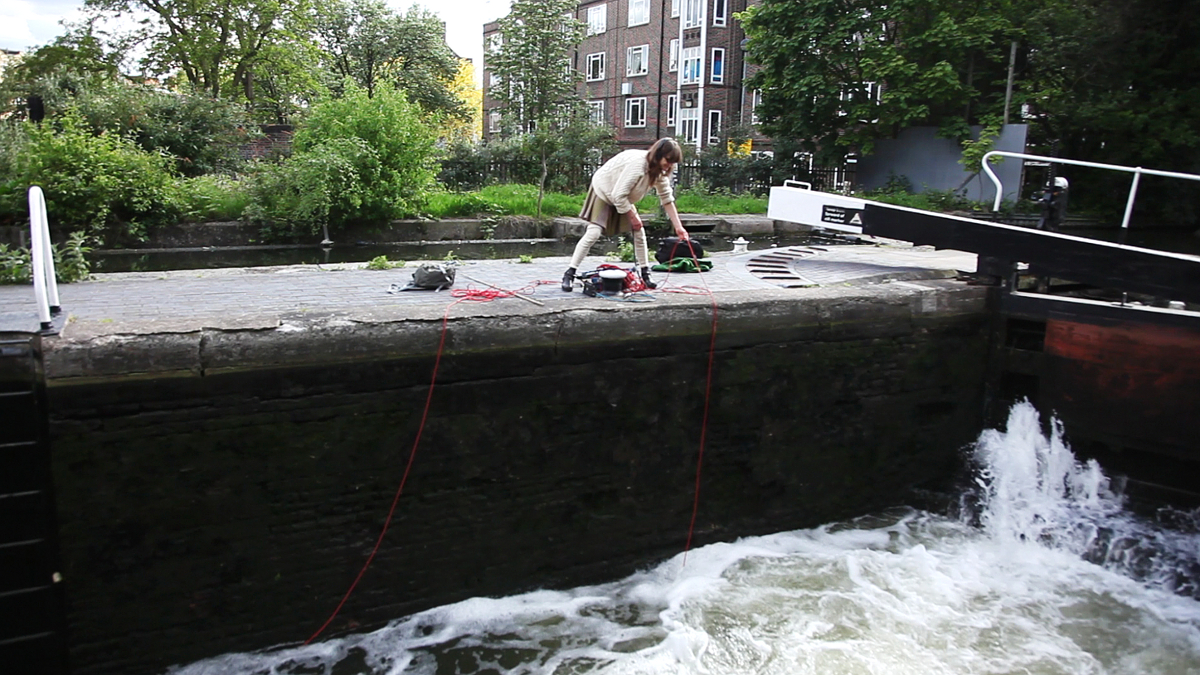 Recording in Acton's Lock for 'The lock shift songs' 2014. Image Kristian Buus.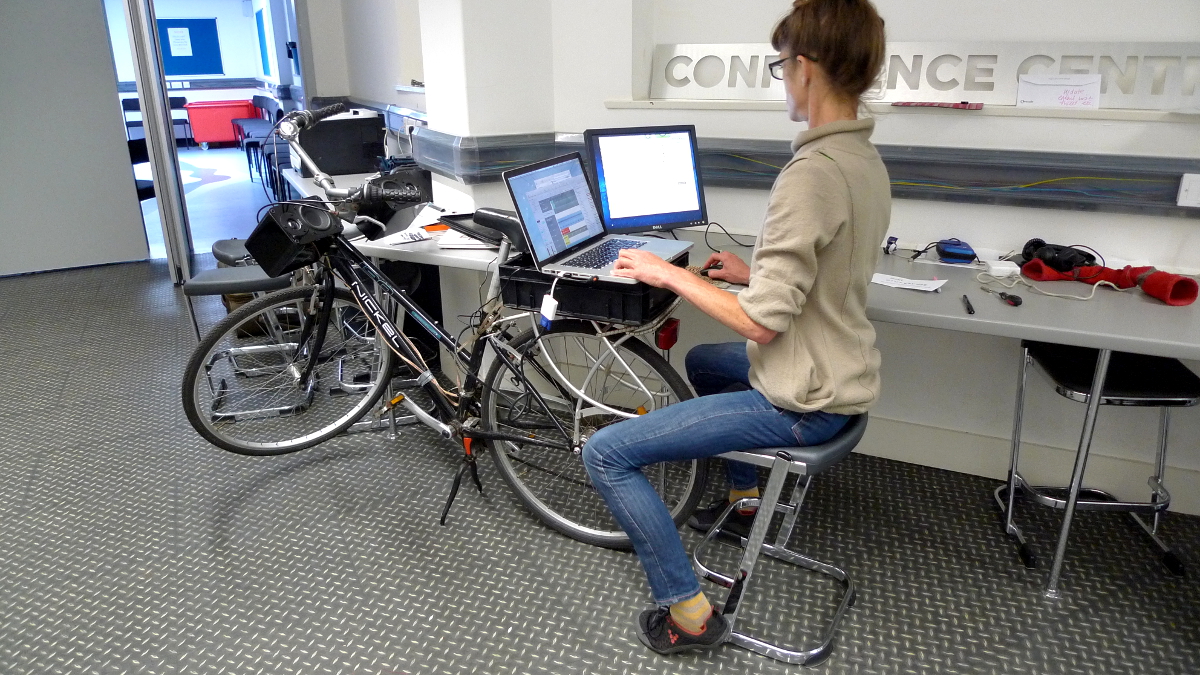 Sonic bike composition. Artist in residence, Coventry Transport Museum. 2015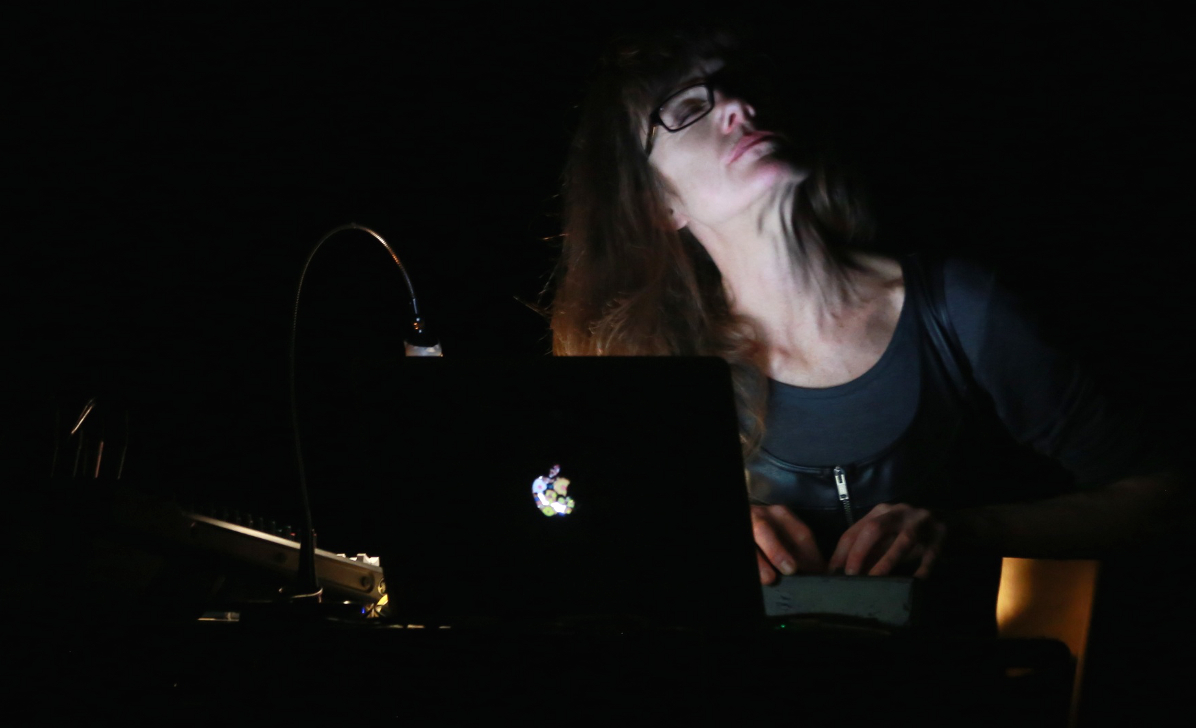 Premier of The 4th floor,  new 4 channel commission for Digital Weekender 2016, @Watermans, London. 2016. Image  Kristian Buus
Background.    Playing classical violin from the age of 7, singing in one band but getting further with bass and drums in the next, in 1985 she discovered electricity and listening and with that, her current trajectory.  Since then, acid house engineering, electrically reconstructing the violin,  Distinction for a Masters in Music Technology, introducing and running a Performance Technology course at Dartington College of Arts, establishing label Annette Works and in 2009 launching the audio research lab, AudRey in London's East End.  She also set up a wholefood collective and did a Zoology Hons degree along the way.