Wednesday 7th December
December 7th, 2016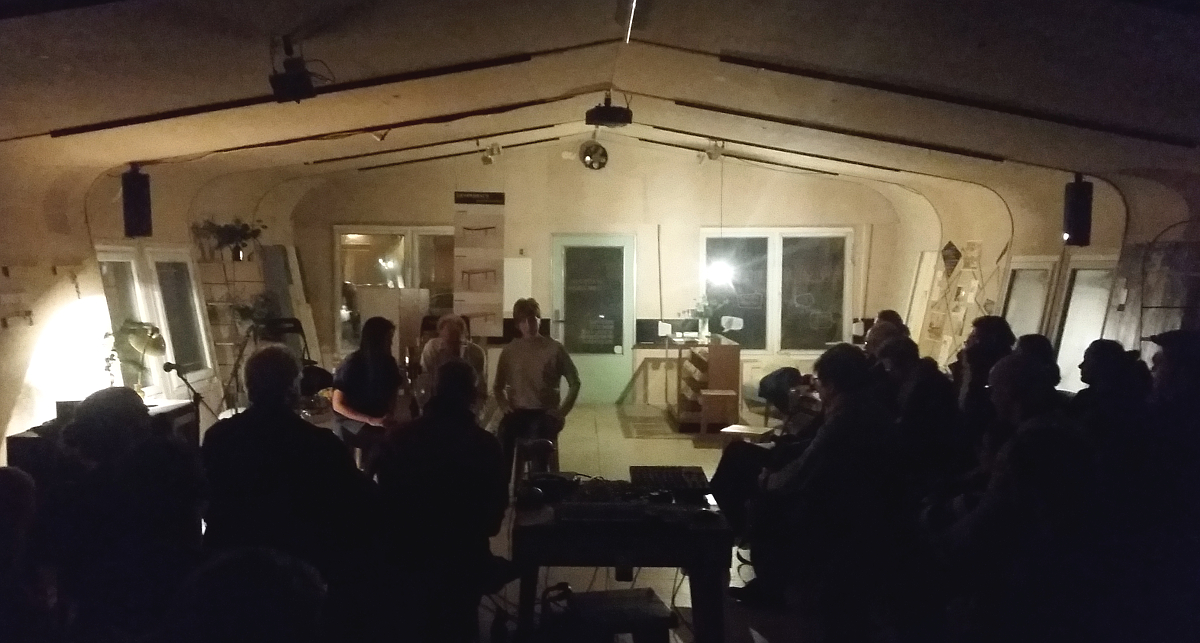 I hadn't expected this in Berlin. A flimsy plywood pre-fab, albeit a beautiful one, to play in. Berlin gigs mean stone, concrete, brick, dark, sometimes damp. An industrial space, squat, church, gallery  – some kind of grounded history.  No this was a surprise and was a blast back to US tours in the late 90's where I've found myself playing in upstairs book stores or cafes with a mono PA.  However, it all made super sense as I emptied bike panniers of cables and connected the tiny PA (inc sub, good) to my kit. I had come to make a new performance with the shark synthesizer in stereo and adapting to this unusual space was of course part of the bag. Fortunately it all worked out, even with no sound check, a varied and enthusiastic audience were keen to tell me afterwards. This was good. Since my research for Varèse professorship, I've been reinspired to revisit the stage and work live and stereo again. Last night showed this was really worth it.
Many thanks to Audrey Chen, Phil Minton and Ute Wasserman (performing here) for the invitation + fabulous concert and to Lixia for hosting.
Location, REH Geyersbach Kopenhagener Str. 17 Berlin.  6.12.15. Sells great recycled furniture in the day time.